For most small virtual projects that require communication among 5 people or less, you probably don't need to use any sophisticated project management or online collaboration software to manage them.
Instead, you can just use a combination of free online tools such as Google Docs, Doodle, and Skype.
Here are five simple steps to help you set up and manage a small project (the templates I use below refer to a graduate school course project that includes writing a final report & presentation, but the templates could be used for any type of small project):
Step 1: Sign up for a free Google Account
If you already have a Gmail address (I discussed why you should get one in my previous post), then you automatically get a Google Account and you can skip this step. However, if you don't, then click here to sign up for a Google Account using a non-Gmail email address.
Step 2: Create a "Project Scope & Approach" Document
Using your Google Account, go to Google Docs and create a "Project Scope & Approach" document (click on "Create" then "Document" which will open a new window or tab).
This document will serve as a one-stop-reference for the team so that you avoid relying on back-and-forth email messages (which could get confusing).  The document will contain all the information the team would need to do the project, including:
The project's objectives/ requirements
The team's contact info (emails, phone numbers, Skype Names, etc.)
The project's assumptions
The division of labor (who's working on what)
The step by step approach to finishing the project
Any other additional info
All Google Docs files have the option to be shared privately with other individuals by entering the email addresses associated with their Google Accounts (just click on "Share" in the top right corner and enter your team members' email addresses).
I have uploaded a sample "Project Scope & Approach" Google Doc template. Feel free to copy and paste it into your own document to use as your own (the document is uncopyrighted – so I don't care if you steal my exact wording

). Here's a screenshot of how the document looks like: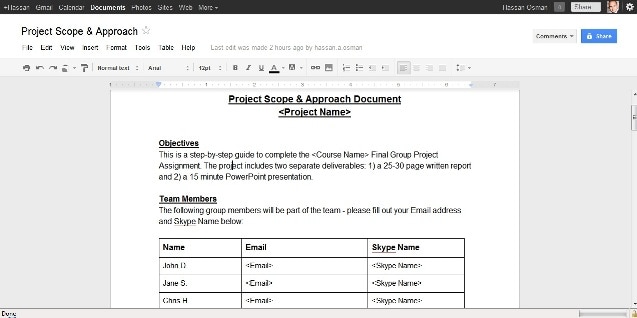 Step 3: Create a "Project Timeline" Spreadsheet
Also using Google Docs, you can create a project schedule spreadsheet (click on "Create" then "Spreadsheet") which will show the dates that certain milestones need to be completed by. This is a watered-down version of a Gantt chart that helps visualize where you stand in the project.
I have uploaded a sample "Project Timeline" Google Doc. Again, feel free to use it as you wish. Here's a screenshot of how the timeline looks like: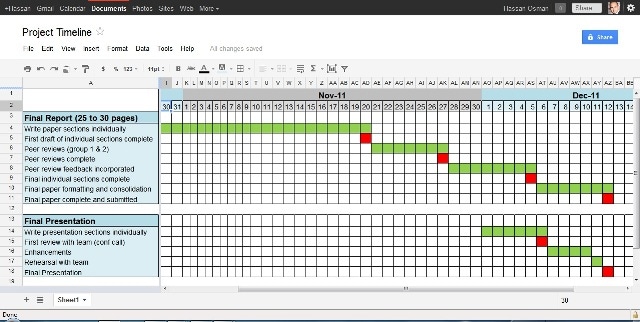 Step 4: Use Doodle to set up times to talk
Doodle is a phenomenal tool that helps you schedule a common time to meet with your teammates without having to rely on multiple back & forth emails. It's free and you don't even need to register to use it (I love it when companies do that). You just set it up, send out a link, and everyone fills in their free timeslots. Doodle then shows you when the common timeframes are.
Step 5: Use Skype & Google Docs for Conference Calls
Skype is a great tool for virtual meetings because it lets you have audio conference calls with your teammates for free (video conferencing requires a fee though).
The cool thing about using Skype with Google Docs is that you can see what someone is typing during the call. This is helpful if the team needs to discuss edits to a document in real-time.
I hope this was helpful! Let me know in the comments section below if you have any suggestions about anything I might have missed. Happy Project-Managing!