I love coffee. And I happen to drink a lot of it while working next to my laptop (which isn't too smart, I know). So I've been looking for a good spill proof coffee cup for a while now.
I've had a few close encounters over the last few years that almost completely ruined my PC.
In fact, I had to throw out my external keyboard once because it drowned in my cafe latte.
So the other day, when I came across an awesome spill proof coffee cup, I had to buy it.
It's called the Mighty Mug (aff link).
Why the Mighty Mug is the best spill proof coffee cup out there
What makes the Mighty Mug the absolute best spill proof coffee cup on the market is this: it is nearly impossible to accidentally tip over.
That's because it uses a patented suction cup on the bottom that lets you easily lift it up and down, but locks in place if you hit it on the side.
The thing is ingenious.
I was so impressed that I actually made a little video review about it on YouTube.
Check it out here:

The model I bought is the Mini Stainless Steel (12 oz) version, and it's for around $15 to $18 from Amazon. But it also comes in a few other colors and sizes.
In the video, I actually try to slap it hard a few times, but it wouldn't budge.
Of course, most travel mugs already have a lid that minimizes spillage if you ever knock them over.
However, if you're someone like me, a crazy coffee drinker who works from home and has kids running around, then having a spill proof coffee cup that doesn't tip over is a major plus.
Here are a couple of GIF screenshots from the video that show you how the spill proof coffee cup works.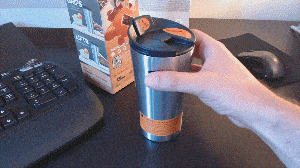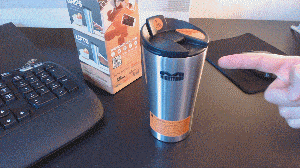 Happy Coffee Drinking!
Hassan
P.S. – The mug promises to maintain your hot beverages for up to 4 hours, and your cold one for up to 14 hours. The insulation thickness seems like it might live up to those claims, but that's still to be tested!