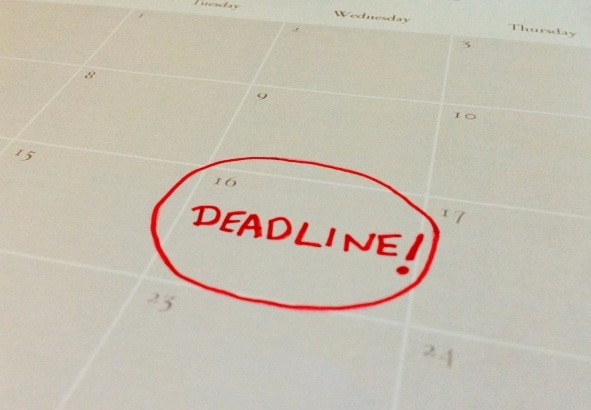 Most human beings are inherently lazy – they have an instinctive tendency to procrastinate with tasks that don't have a sense of urgency associated with them.
I know because I'm one of them.
I typically delay working on stuff whenever I get the chance.
I come up with false alibis such as waiting until I'm in a better mood or until I get more information before starting on a task.
There are many psychological reasons why people procrastinate, but a huge reason why we take forever to finish a task is something called Parkinson's Law.
Parkinson's Law says that "work expands so as to fill the time available for its completion."
What this means is that if a task would typically require 1 hour to complete, then if you assign it a 4 hour deadline to it, it will take up the full 4 hours to get done.
In other words, if a task does NOT have a deadline associated with it, it will NEVER get done.
That's the primary reason why you need to set deadlines.
But deadlines have other advantages in addition to avoiding Parkinson's Law from kicking in.
Deadlines develop a sense of urgency, hold team members accountable, provide a sense of encouragement, help in determining priorities, and provide a sense of accomplishment (after the deadlines are met).
They're a win-win for everyone. So use them.
But how do you set deadlines?
There are 3 rules that you should keep in mind to set deadlines strategically.
#1 Be Reasonable
The first rule is to be reasonable about it. If you know that a task needs around a week to complete, then don't ask for a deadline in a couple of days.
While this sounds obvious, it is something that is commonly abused.
If you don't know how long a task would take, then simply ask for feedback. And if you're worried about not getting an honest answer from your team, then ask for optimistic and pessimistic estimates, and average those out.
#2 Be 100% Clear-cut
The second rule is to be 100% clear-cut about when you want something done. Deadlines are ineffective if they're ambiguous. You need to mention the specific day, date and time that a task should be completed by. And if your team members live in different time zones, then mention that as well.
For example, instead of saying "I need this done in the next couple of days," you should say "I need this done by Friday, June 9 at 3pm US Eastern Time."
#3 ALWAYS SET THEM
The third and final rule is to ALWAYS set deadlines. Every single task should have a deadline associated with it. Period.
Otherwise, Parkinson's Law takes over.
If you don't really have a deadline, then you can use a fake one (no one's going to really know

). And if the deadline is a few weeks out, then use an intermediate soft deadline as a checkpoint to make sure progress is being made on the task.
Again, always set deadlines.
Cheers,
Hassan
P.S. I published a Kindle book called "Influencing Virtual Teams" where I share more cool tactics like this one. Check it out by clicking here.