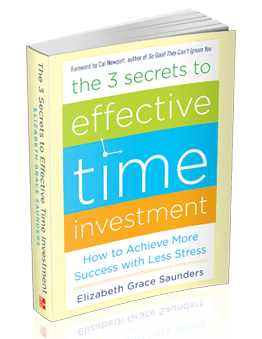 Elizabeth Grace Saunders of Real Life E, a time coaching and training company, just published her first book entitled The 3 Secrets to Effective Time Investment: How to Achieve More Success with Less Stress (affiliate link).
I was lucky to get an advance copy of the book a little while ago, and it is awesome! After reading it, I reached out to Elizabeth to ask her if she would do an interview with me about it, and she kindly accepted.
In the interview, we talk about what those 3 secrets are and how they can help you be more effective with your time.
So click play below to watch it (quick side note: I apologize for the  slight choppiness in the video – that was due to my Skype recorder not being set to the right settings. However, the sound  plays properly throughout the interview, so it's not too distracting).


You can purchase the book from Amazon or from Elizabeth's own book site here.

If you go through her site, you can get a bunch of great add-on bonuses, so I would definitely do that if I were you (plus, you get to see a list of what some people, including yours truly, are saying about the book in the right column 🙂 ).
I hope you enjoyed the interview! Let me know your thoughts in the comments below.